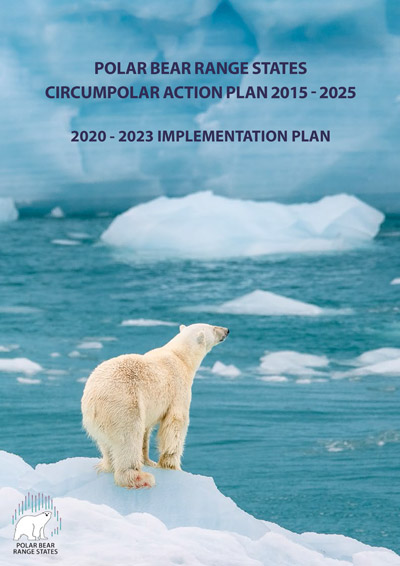 2020-2023 Implementation Plan (click on photo to view introduction pamphlet)The CAP 2020-2023 Implementation Plan (Implementation Plan) was adopted at the 2020 Meeting of the Parties (MoP) to the Polar Bear Range States Agreement, in Longyearbyen, Norway. The Implementation Plan was further developed by the Circumpolar Action Plan Implemantation Team (CAP-IT) taking into consideration the progress during the execution of the 2018-2020 Implementation Plan and the recommendations from the Mid Term Review of the 2015-2025 CAP, conducted in 2020.
The detailed plans of each objective and associated actions in the 2020-2023 Implementation Plan are presented on this web-site and the relevant sub-sites. Progress of the Plan will be presented on these sites in due course.
The overarching vision of the 2015-2025 Circumpolar Action Plan is:
To secure the long-term persistence of polar bears in the wild that represent the genetic, behavioral, life-history and ecological diversity of the species.
In order to realize the vision, the Range States have developed seven key objectives and actions designed to meet the key objectives. The 2020-2023 Implementation Plan addresses six of the seven objectives that will be met through the implementation of 19 actions. text


List of Objectives and Actions of the CAP 2020 - 2023 implementation plan:
2020-2023 Implementation Plan Dashboard - Status overview of actions' deliverables and milestones (click on image below to access the dashboard view)